TIOMANgrow is exclusive Agtech membership platform for rural smallholder farmers, supported by a local network of TiG agents that provide the smallholder farmers with knowledge, support, products and services.
Our partners will be able to support our network with new techniques, products and knowledge that will directly impact our smallholders to a sustainable future.
FEATURES
Our global network of smallholders will be teamed up with one of our village TIOMANgrow Agents to learn about the latest technologies, best practices in the field, how to get the best price for their produce and ultimately make more money.
GROW HEALTHY CROPS
Fight with us against the plant disease and remove pest from the farm. We offer complete solutions, according to your own problem.
SOIL
Find out all the details about growing crops on the soil you own considering the soil type and area, you will receive the best solution to have healthy crops.
BUY
Buy the best recommended seeds and soil additives and successfully battle pests, bacteria and every other kind of plant disease.
SELL
Find the best market and buyer for your crops. With application of our growing methods and help from expert traders, reach the best price.
Most of the world's farmers are smallholders on less than two hectares of land. Despite producing over 80% of the food consumed in parts of the developing world, smallholders still lack the necessary information, training, high quality seeds and inputs needed for a healthy harvest. Empowering smallholders to protect their crops from pests, disease and climate pressures represent an important part of the solution to achieve a world free from poverty and hunger, major aims of the UN's Sustainable Development Goals.​
Creativity is inventing, experimenting, growing, taking risks, breaking rules, making mistakes and having fun. We're creative action-takers who are in it for the people, the ones we work with and the customers we serve. If you think you're one of those people, we'd love to hear from you.
TIOMANgrow blog
Here you will find latest updates and news about the TIOMANgrow platform and different solutions for easier farming. We will share our knowledge base and inform you about latest and best practices in the field. Please subscribe to our newsletter and be the first to get the news.
SOIL
Find out all the details about growing crops on the soil you own. considering the soil type and area, you will receive the best solution to have healthy crops.
GROW HEALTHY CROPS
Fight with us against the plant disease and remove pest from the farm. We offer complete solutions, according to your own problem.
SELL
Find then best market and buyer for your crops. With application of our growing methods and help from expert traders, reach the best price for your crops.
A new Filipino law requires all students to plant 10 trees in order to graduate​
Students in the Philippines must plant at least 10 trees in order to graduate from elementary school, high school, and college, CNN reported.The initiative comes from a bill passed by the Philippine Congress earlier this month.The trees can be planted in either forests, mangroves, reserves, urban areas, abandoned mining sites, or in indigenous territory, according to the bill.Its goal is to help promote "inter-generational responsibility" over environmental protection. Here's one way to plant 175 million trees within a year: get young people to do it for school.On May 15, the Philippine Congress officially passed a Bill stating that all students from elementary school, high school, and college (roughly equivalent to primary school, secondary school and university) must plant at least 10 trees in order to graduate, CNN .The trees can be planted in either forests, mangroves, reserves, urban areas, abandoned mining sites, or in indigenous territory, according to .According to CNN, the trees must be also appropriate for the area's climate, and indigenous tree species are preferred.The Bill – named the "Graduation Legacy for the Environment Act 2016" – was introduced by congressman Gary Alejano to promote "inter-generational responsibility" over environmental protection."While we recognise the right of the youth to a balanced and healthy ecology… there is no reason why they cannot be made to contribute in order to ensure that this will be an actual reality," Alejano wrote in the Bill's explanatory note.He added that the initiative would see at least 175 million new trees planted every year, totalling over 525 billion additional trees "in the course of one generation".Under the Bill, the country's Education Department is responsible for implementing the new rule, while others, such as the Environment and Agriculture Departments, will establish nurseries, supply seedlings, identify suitable planting sites, and monitor the trees' progress.Alejano said that even if the trees' survival rate was 10 per cent, this would still amount to 525 million additional trees in the country.He added that these trees will become the students' living legacy to the environment and future generations.
Polly Galita joins speakers at Polly Galita joins "Ripe for disruption: exploring the tech revolution in African agriculture" panel organized by Bobab
We're happy to announce that Polly Galita (Founder, TIOMANgrow) will be joining Chris Henderson (Practical Action) and Katharina Zechner (Project Manager, Agri Tech Programme, GSMA) as a speaker on the panel "Ripe for disruption: exploring the tech revolution in African agriculture" organized by Bobab - a social enterprise dedicated to connecting science, tech and business professionals working in and for Africa. From blockchain and AI to drones and vertical farms, new technologies promise to revolutionize agriculture and agribusiness in Africa. However, do the bells and whistles of the latest tech innovation mean we risk neglecting baseline technologies that can deliver the greatest impact on the ground in Africa? In this first event of the series, we explore the challenges and opportunities of scaling up disruptive agricultural technologies across the continent and whether or not they really warrant the hype. Key discussion points: Challenges and opportunities in applying and scaling up new technologies in agricultureLow-tech, high-impact technologies improving yields across Africa Building research capacity for resilient agriculture systems on the continent This is Event 1 in 'The Future of Agriculture in Africa' campaign, a series of three events exploring the challenges and opportunities defining agriculture and agribusiness in Africa today, as well as those that will come to shape it in the future. We'll be tackling a range of issues including disruptive on and off-farm technologies, multi-disciplinary collaboration, job creation with off-farm tech innovation and opportunities in agricultural financing. In person and live-streamed to out global online community, join us as we spotlight the latest scientific, technological and commercial innovation happening in and for Africa, and the people and organizations making it happen. With insights canvassed from across Africa and around the world, we will identify a number of key recommendations that will be published after each event.
TIOMANgrow and I Can Farm Global Botswana partnership
TIOMAN is delighted to announce the partnership with I CAN FARM GLOBAL bringing TIOMANgrow to Botswana; a platform for smallholder farmers that provides free live SMS notifications with daily weather reports, pest and disease warning and with the support of the Botswana Government crop import restrictions information. TIOMANgrow is an exclusive membership for smallholders, supported by a network of agents known as TiG agents. The TiG agents visit the smallholders in their farms, equipped with smartphones to sign up smallholders to the membership using the TIOMANgrow App. The application process captures information on the smallholder, including which crops they are growing, when they will be available to harvest, the location and other valuable information. The TIOMANgrow platform supported by I CAN FARM GLOBAL in Botswana is expected to provide employment, especially for youth in rural locations as well as helping smallholders improve yields and market access. The partnership with I CAN FARM GLOBAL also provides field training, technical support via a call center and social media groups, routes to market and the ability for the smallholder to apply for asset-based loans. The food and agricultural organization (FAO) expects the global food demand to rise with 50% until 2050 while also suggesting that by some estimates, if nothing is done to change the present trends, the integration of agricultural markets could lead 1.7B farmers to be forced to leave agriculture over the next few decades. Brining Agtech solutions to the people who need them the most, the smallholder farmers could reverse this trend and allow them to stay competitive enough to preserve in the coming years.
TADB calls for SADC member states to reach more smallholder farmers
The Tanzania Agricultural Development Bank (TADB) has called for new and innovative approaches in serving smallholder farmers in order to revolutionalise SADC's agriculture with new vigor. Read complete article here:https://ippmedia.com/en/business/tadb-calls-%C2%A0-sadc-member-states-reach-more-smallholder-farmers​
Women hold the key to building a world free from hunger and poverty
But gender inequality putting a brake on sustainable development. According to the Food and Agricultural Organization , if women farmers had the same access to resources as men, there would be 150 million less hungry people in the world. Achieving gender equality and empowering women is not only the right thing to do but is a critical ingredient in the fight against extreme poverty, hunger and malnutrition, FAO Director-General José Graziano da Silva said today.Speaking at a co-organized by FAO, the European Commission and the Slovak Presidency of the Council of the European Union in collaboration with the International Fund for Agricultural Development (IFAD), the World Food Programme (WFP) and UN Women, the FAO-Director General said that "Women are the backbone of our work in agriculture," noting that they comprise 45 percent of the agricultural labour force in developing countries, with that figure rising to 60 percent in parts of Africa and Asia.These numbers underscore the importance of ensuring that rural women enjoy a level playing field, according to the FAO Director-General"It's all about opportunity. Evidence shows that when women have opportunities, the yields on their farms increase -- also their incomes. Natural resources are better managed. Nutrition is improved. And livelihoods are more secured," he said.This is why rural women are key players in the effort to achieve all of the Sustainable Development Goals - but especially SDG2, freeing the world from hunger and malnutrition - Graziano da Silva added. Zero Hunger: No way to get it done without women Neven Mimica, European Union Commissioner for International Cooperation and Development, told event participants: "It is often said that if you educate a woman, you educate a whole generation. The same is true when we empower women across the board -not only through access to knowledge, but also to resources, to equal opportunities, and by giving them a voice."Yet current statistics suggest that the world is falling short on this score, according to Mimica."We know that agricultural yields would rise by almost a third if women had the same access to resources as men. As a result, there would be up to 150 million fewer hungry people in the world. And we know that children have significantly better prospects for the future when their mothers are healthy, wealthy and educated. Especially during the first 1,000 days of a child's life," he said."If we are serious about putting an end to poverty and hunger once and for all, then we all need to step up our support for rural women. As an investment in families, in our communities, in our wider societies, and in our planet's future," the EU Commissioner argued. Closing the gender gap In her remarks, Slovak Minister of Agriculture and Rural Development and current President of the Council of the European Union, Gabriela Matecná, said that "the gender gap imposes significant costs on society, in terms of lost agricultural output, food security and economic growth."Although nearly half the world's agricultural labour force is female, she noted, women own less than 20 percent of agricultural land. At the same time, 60 percent of chronically hungry people on the planet are women or girls.However "when women are fully involved, the benefits can be seen immediately: families are healthier and better fed; their income, savings and investment go up. And what is true of families is also true of communities and, in the long run, of whole countries," Matecná said. Working together toward a common goal Representatives of UN organizations also participated in today's event, stressing the importance of stamping out gender inequality and empowering women with information, training, tenure, and fair access to resources and to agricultural, nutrition, and health support services."When you invest in a man, you invest in an individual. When you invest in a woman, you invest in a community," noted IFAD President Kanayo F. Nwanze."We see time and time again that gender equality opens doors for entire communities to strengthen their food and nutrition security and to improve their social and economic well-being," he said, adding: "Empowering rural women is indeed empowering humanity.""It is only through empowering women farmers that we can unlock the power of global food systems. Supporting them is essential in creating resilience, building stronger businesses, and advancing food security in the long term," Denise Brown, Director of Emergencies at WFP, told participants.Maria Noel Vaeza, Director of Programs at UN Women, said: "Closing the gender gaps in agriculture can provide multiple development dividends, including gender equality for rural women, food security and poverty reduction, improved climate management and peaceful societies." Key facts In developing countries, women make up 45% of the agricultural labour force, ranging from 20% in Latin America to up to 60% in parts of Africa and Asia.In developing countries in Africa and Asia and the Pacific, women typically work 12-13 hours more than men per week.Across all regions women are less likely than men to own or control land, and their plots often are of poorer quality. Less than 20% of the world's landholders are women.If women farmers had the same access to resources as men, the number of hungry people in the world could be reduced by up to 150 million due to productivity gains.Women reinvest up to 90% of their earnings back into their households - that's money spent on nutrition, food, healthcare, school, and income-generating activities - helping to break the cycle of intergenerational poverty.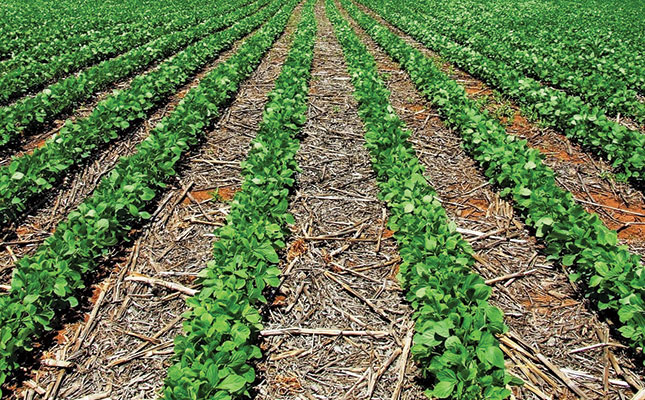 Switching to no-till? Restore degraded soil first!
It is often assumed that implementing no-till production is the immediate next step towards restoring degraded soils. Not so, says Guy Thibaud, a veteran soil scientist with the KwaZulu-Natal Department of Agriculture and Rural Development. ​The use of no-till conservation agriculture practices continues to grow rapidly around the world. The Argentina Association of Direct Seeding No-Till Producers, for example, states that more than 80% of that country's crop farmers implement no-till production methods. In comparison, only about 30% of South Africa's crop production is no-till, according to Dr Hendrik Smith, Grain SA's conservation agriculture facilitator. Veteran soil scientist Guy Thibaud says a number of South African farmers claimed to have tried implementing no-till but that it ultimately did not work for them. "What I say, though, is that these claims of lack of success with no-till are not due to any inherent failures with the system. For one thing, if no-till created bigger problems than the ones it is meant to solve, or if it were not economically viable to implement, there would not be an estimated 120 million hectares of land – a figure that is growing – under no-till production around the world." Thibaud believes the reason for no-till reportedly not working for some South African farmers is that these producers made mistakes or took shortcuts with their management of the system as they did not fully understand it. He says that some farmers have complained about "the poor early performance of no-till" during and immediately after the transition from conventional tillage practices on their farms. In response to these comments, Thibaud quotes world-renowned soil science expert Rattan Lal, who said that "severely eroded and degraded soils due to prior mismanagement do not respond to no-till unless the physical, nutritional and soil biological properties are [first] restored". The fence row soil test: proof that it works Thibaud says that farmers who are sceptical about no-till should take a look at the results of the simple fence row soil test devised by South African soil scientists Dr Neil Miles and Dr Alan Manson. The fence row soil test at Cedara clearly showed that the never-tilled soil (left) was healthier than the soil (right) that had been tilled annually for 38 years. Photo: Dr Neil Miles and Dr Alan Manson This visually compared the health of two soils on Cedara Agricultural Research Centre's farm. The first had been conventionally tilled and monocropped with maize for at least 38 successive years, while the second, on the adjacent grassed-over access road, had never been tilled. "Just by looking at the soil samples from these two areas 2018it was easy to see that the levels of organic matter, biological activity and aggregate stability were significantly better in the never-tilled soil versus the long-term tilled soil," says Thibaud. He urges farmers who still use conventional tillage to carry out this test, but acknowledges that in areas where more sandy soils are farmed, the visual differences between the two soil samples will initially not be as obvious. However, closer inspection, including feeling the two soils, will reveal differences to prove that the never-tilled, grass-covered soil is healthier than the tilled soil. Essential fixes before going no-till According to Thibaud, the first important fix before transitioning from conventional tillage to no-till is to correct soil acidity. He advises no-till farmers still struggling with soil acidity to stop no-till for a season, fix the problem, and then return to no-till. "Don't get emotional, don't live in denial, because the soil acidity problem will not disappear unless you take action. And to prevent re-acidification of no-till soils, I recommend surface-applying lime at between 1t/ha and 2t/ha every two to four years. This has proven very effective." A second important fix ahead of no-till implementation is to check for any soil compaction, including plough pans, subsoil compaction and surface crusting. The depth of any subsoil compaction must be determined using an appropriate soil probe tool. A tractor-drawn ripper implement set to rip to a depth just below the compacted layer can then be used to remedy this compaction. Thibaud points out that tillage, such as ploughing and ripping, provides only a temporary solution to soil compaction. "If it were a permanent fix, why do farmers still plough their soil every year? As useful an invention as the mouldboard plough was considered to be when originally devised, it has since caused a lot of misery. For example, the infamous American Dust Bowl of the 1930s was directly as a result of years of annual ploughing and discing, followed by a devastating drought. As a result, there was a max exodus from affected US farms." Nature's revenge He adds that constant cultivation of farmland has taken its toll on beneficial soil organic matter and on the valuable topsoil itself. "If you pillage, plunder and rape the soil for long enough, the forces of nature will expropriate your land, and it will be without compensation." He points out that in their 1953 paper, 'The regeneration of soil humus under a grass ley', University of Pretoria researchers JJ Theron and DG Haylett discussed the issue of declining crop yields in South Africa. The pair warned farmers that this decline was caused by, in turn, loss of soil organic matter through repeated tillage, rapid impoverishment of the ploughed soil, soil structure deterioration, and loss of topsoil due to erosion. Despite this warning, generations of farmers have continued to till their soil conventionally and repeatedly. As a result, and in combination with arguably the country's most severe drought of the past century, regions of South Africa experienced conditions during the 2015/2016 summer crop production season worryingly similar to those of the American Dust Bowl of the 1930s. "While farmers in the Free State's Hoopstad area were planting that season, there was a massive dust storm," explains Thibaud. "This dust was lifted from the local highly degraded and therefore highly erodible soils. "If the Hoopstad farmers, and perhaps tillage farmers in other areas too, now want to transition to no-till, they'll first have to recognise and fully accept that crop residues, soil carbon and organic matter are all key factors for no-till to work effectively. If they can't accept this, they won't even get out of the starting blocks." Beyond not ploughing Thibaud warns farmers to avoid becoming so preoccupied with not ploughing soils that they forget to address the other important aspects of sustainable soil management and crop production. No-till cannot work without the simultaneous use of organic soil covers, such as crop residues and cover crops. He quotes Lal, who says that crops which do not leave a significant amount of residue on the soil surface cannot be grown continually in a no-tillage system without seriously deteriorating the soil's physical properties. Smooth the bumps with cover crops The transition from conventional tillage to no-till sometimes comes with short- to medium-term challenges. Thibaud cites US soil scientist James Hoorman, who said in 2009 that no-till maize production had struggled to be successful in the Midwestern US. "[Successful] no-till farmers [there] say that it takes seven to nine years to transition from conventional farming to long-term no-till. Yields are typically reduced by 10% to 20% during those transition years." Hoorman says this transition period can be dramatically shortened to two to four years if cover crops are also grown. This is supported by another US soil scientist, Dr Jill Clapperton, who, when speaking in South Africa in 2014, said unstructured soils with low organic matter content take between three and five years to build the soil biological properties necessary to improve soil structure. Clapperton's recommendation at that time was that it was better to start the transition to a conservation tillage system after a perennial crop or pasture phase of two to five years. Thibaud says that with much of South Africa being classed as arid and semi-arid, consideration should be given to the water usage for cover crops that do not directly contribute to a farmer's income. In areas where rainfall and water resources are particularly scarce or under pressure, he suggests planting one or more ley crops in winter as an alternative to conventional cover crops. "By first addressing soil acidity and soil compaction, and by first improving soil structure and general health through the use of living and dead soil cover, the transition from conventional tillage to no-till will get a valuable jumpstart," he says. "This will not only reduce the length of the transitional period but minimise any potential yield losses commonly associated with this transition." This presentation was given at the 2018 No-Till Conference.https://www.farmersweekly.co.za/
We are global.
We have farmers joining from around the word looking for advice to grow better crops. No matter your location, we can connect you to an adviser or agronomist that will help you find the best solution for troubling issue. Join our network and become connected to the like farmers around the world. The platform will soon feature several major languages supported for easier communication.
Sign-up and get connected to experts that will help you in your farming endeavor.
CROPS
Receive information about crops you are growing. We offer you professional assistance from experts in the field, tailored for your case.
IRRIGATION
Find all the latest irrigation and drip irrigation solutions and get help from the experts to make your own.
Already a Grow member?
Please sign in here.
TIOMAN is delighted to announce the partnership with
I CAN FARM GLOBAL
bringing TIOMANgrow to Botswana.
Platform for smallholder farmers that provides free live SMS notifications with daily weather reports, pest and disease warning and with the support of the Botswana Government crop import restrictions information.​​
Our partnership will provide farmers with:
Free SMS weather & crop restriction data
​
Exclusive WhatsApp tech support​
Asset based Micro loan facility for drip/inputs/chemicals/fertilisation​
Social Media Market place to connect with buyers
​
Ability to champion and become an agent to sign up other farmers​