TIOMANgrow is specifically designed to connect with independent smallholders keeping them informed with the latest knowledge on how to grow better crops.
Our partners will be able to support our network with new techniques, products and knowledge that will directly impact our smallholders to a sustainable future.
FEATURES
Our global network of smallholders will be teamed up with one of our village TIOMANgrow Agents to learn about the latest technologies, best practices in the field, how to get the best price for their produce and ultimately make more money.
GROW HEALTHY CROPS
Fight with us against the plant disease and remove pest from the farm. We offer complete solutions, according to your own problem.
SOIL
Find out all the details about growing crops on the soil you own considering the soil type and area, you will receive the best solution to have healthy crops.
BUY
Buy the best recommended seeds and soil additives and successfully battle pests, bacteria and every other kind of plant disease.
SELL
Find the best market and buyer for your crops. With application of our growing methods and help from expert traders, reach the best price.
Most of the world's farmers are smallholders on less than two hectares of land. Despite producing over 80% of the food consumed in parts of the developing world, smallholders still lack the necessary information, training, high quality seeds and inputs needed for a healthy harvest. Empowering smallholders to protect their crops from pests, disease and climate pressures represent an important part of the solution to achieve a world free from poverty and hunger, major aims of the UN's Sustainable Development Goals.​
Creativity is inventing, experimenting, growing, taking risks, breaking rules, making mistakes and having fun. We're creative action-takers who are in it for the people, the ones we work with and the customers we serve. If you think you're one of those people, we'd love to hear from you.
TIOMANgrow blog
Here you will find latest updates and news about the TIOMANgrow platform and different solutions for easier farming. We will share our knowledge base and inform you about latest and best practices in the field. Please subscribe to our newsletter and be the first to get the news.
SOIL
Find out all the details about growing crops on the soil you own. considering the soil type and area, you will receive the best solution to have healthy crops.
GROW HEALTHY CROPS
Fight with us against the plant disease and remove pest from the farm. We offer complete solutions, according to your own problem.
SELL
Find then best market and buyer for your crops. With application of our growing methods and help from expert traders, reach the best price for your crops.
"When women are empowered and can claim their rights and success to land, leadership, opportunities and choices, economies grow, food security is enhanced and prospects are improved for current and future generations", -Michelle Bachelet.As the world marks the International Women's Day, we remember the woman as a farmer for empowering the woman in the agricultural sector, is a step towards attaining food security and achieving zero hunger. EPURI LEBASHA Epuri Lebasha, an agricultural engineer with a foundation in Agricultural science from the EARTH University in Costa Rica is the farmer shifting the narrative for farming in arid and semi-arid lands. She one day envisions a Northern Kenya that will step into the limelight to embrace as well as invest in agronomics."Farming is done in small slots and farmers mostly work in groups while utilizing the green houses, open field and shade nets as farming methods. The best thing about this is that, the supplies and produce goes to the local markets within Turkana. An achievement I am greatly proud of", she says. Her motivation lies in seeing a food security for nomadic communities since they enormously depend on relief food distributed by NGOs and other donors. Her beliefs are deeply rooted in the nomadic communities to be able to grow their own food through the integration of nomadic practice and agriculture. An idea that is clearly seeing the daylight as days go by thanks to her efforts. This was also the underlying reason that pushed her to study in EARTH University.The journey has not been a walk in the park. Some of the challenges faced include: being that it is a nomadic community in agricultural transition, sharing knowledge may prove to be a challenge since at times they prioritize livestock over agricultural crop production. There are also limited resources for the farmers to work with especially agro-inputs. She says efforts though have been put in place to change the mentality towards agricultural crop production among the pastoralists."Africa Farmers Club has had quite an impact", she says. She draws her motivation from the organization since it encourages young farmers through expertise, exhibiting failures in farming and what experiences and lessons to be gained by presenting a learning opportunity.It will be no shock to see the Northern Kenya region producing the greenest most leafy farm produce hence changing the debate about food security in the area by increasing yields and boosting the farmers' profits. CATHERINE KAMANO "Farming isn't just a way to make a living. It is a way to make a life. I started farming in 2015 and everyday has been an experience of its own. Setbacks have been there, and the worst was when I had been promised a profit of 5M from planting onions only to get KSh.119000. Honestly, I got sick and was admitted for an illness I am yet to discover. Since that day I got shock absorbers and if that never took me down, then nothing will", she said amidst a laugh.For Catherine, her gender has never deterred her from her goals. At first, she would strike you as a silent lady, but you would be shocked when she gives orders and takes charge in her farm. The boss in her comes to life at the farm. "You have to be strict and firm when giving instructions especially if you are a young lady with men working in your farm. Its either they do it your way or they leave", she added.Though she comes from a family with zero farming backgrounds, she has managed her farming business and is the talk of the town for her RIVER VIEW farm is quite remarkable. At barely 30 years, Catherine grows a wide variety of crops ranging from kales, cabbages, watermelons, tomatoes and capsicums. Together with her best friend Sylvia who is also her partner in the farm, they are a role model to the today's woman. SILVIA MAINA. "Quitting my office job for the farm has been one of those choices I look back at and smile. Yes, people called me crazy and if that is being crazy then officially I am crazy. Many ask if I ever regret it and I gladly tell them not even a single day. For me the farm is everything. There is some certain joy in watching your seeds sprout from the ground and moving with them till you harvest. Catherine has taught me so much that I needed to learn and everyday has been a learning day", She told me as she gave me a tour of the farm.With the decision made to venture into the agricultural field, Sylvia went out to look for a farm and after many consultations, she found a home at the banks or River Maragwa, Murang'a county. The discouragement they received from the people in the community was reason enough to work hard at all costs just to prove them wrong. Being a young woman farming in an area that was dominate by men was not easy and with time, they have become the darlings of the village. The Farm girls in the farm Sylvia believes that women have a great potential, but they must break the notion that they are an inferior gender." It is all about believing in yourself and self-determination. If only women viewed themselves as experts who possess knowledge which compliments expert's formal knowledge and not as mere beneficiaries, then we would be far", she concluded.As a society,it is our responsibility to make sure the next generation of women are educated, encouraged and empowered to take on the challenges of meeting the world's growing food and fuel needs.
Women hold the key to building a world free from hunger and poverty
But gender inequality putting a brake on sustainable development. According to the Food and Agricultural Organization , if women farmers had the same access to resources as men, there would be 150 million less hungry people in the world. Achieving gender equality and empowering women is not only the right thing to do but is a critical ingredient in the fight against extreme poverty, hunger and malnutrition, FAO Director-General José Graziano da Silva said today.Speaking at a co-organized by FAO, the European Commission and the Slovak Presidency of the Council of the European Union in collaboration with the International Fund for Agricultural Development (IFAD), the World Food Programme (WFP) and UN Women, the FAO-Director General said that "Women are the backbone of our work in agriculture," noting that they comprise 45 percent of the agricultural labour force in developing countries, with that figure rising to 60 percent in parts of Africa and Asia.These numbers underscore the importance of ensuring that rural women enjoy a level playing field, according to the FAO Director-General"It's all about opportunity. Evidence shows that when women have opportunities, the yields on their farms increase -- also their incomes. Natural resources are better managed. Nutrition is improved. And livelihoods are more secured," he said.This is why rural women are key players in the effort to achieve all of the Sustainable Development Goals - but especially SDG2, freeing the world from hunger and malnutrition - Graziano da Silva added. Zero Hunger: No way to get it done without women Neven Mimica, European Union Commissioner for International Cooperation and Development, told event participants: "It is often said that if you educate a woman, you educate a whole generation. The same is true when we empower women across the board -not only through access to knowledge, but also to resources, to equal opportunities, and by giving them a voice."Yet current statistics suggest that the world is falling short on this score, according to Mimica."We know that agricultural yields would rise by almost a third if women had the same access to resources as men. As a result, there would be up to 150 million fewer hungry people in the world. And we know that children have significantly better prospects for the future when their mothers are healthy, wealthy and educated. Especially during the first 1,000 days of a child's life," he said."If we are serious about putting an end to poverty and hunger once and for all, then we all need to step up our support for rural women. As an investment in families, in our communities, in our wider societies, and in our planet's future," the EU Commissioner argued. Closing the gender gap In her remarks, Slovak Minister of Agriculture and Rural Development and current President of the Council of the European Union, Gabriela Matecná, said that "the gender gap imposes significant costs on society, in terms of lost agricultural output, food security and economic growth."Although nearly half the world's agricultural labour force is female, she noted, women own less than 20 percent of agricultural land. At the same time, 60 percent of chronically hungry people on the planet are women or girls.However "when women are fully involved, the benefits can be seen immediately: families are healthier and better fed; their income, savings and investment go up. And what is true of families is also true of communities and, in the long run, of whole countries," Matecná said. Working together toward a common goal Representatives of UN organizations also participated in today's event, stressing the importance of stamping out gender inequality and empowering women with information, training, tenure, and fair access to resources and to agricultural, nutrition, and health support services."When you invest in a man, you invest in an individual. When you invest in a woman, you invest in a community," noted IFAD President Kanayo F. Nwanze."We see time and time again that gender equality opens doors for entire communities to strengthen their food and nutrition security and to improve their social and economic well-being," he said, adding: "Empowering rural women is indeed empowering humanity.""It is only through empowering women farmers that we can unlock the power of global food systems. Supporting them is essential in creating resilience, building stronger businesses, and advancing food security in the long term," Denise Brown, Director of Emergencies at WFP, told participants.Maria Noel Vaeza, Director of Programs at UN Women, said: "Closing the gender gaps in agriculture can provide multiple development dividends, including gender equality for rural women, food security and poverty reduction, improved climate management and peaceful societies." Key facts In developing countries, women make up 45% of the agricultural labour force, ranging from 20% in Latin America to up to 60% in parts of Africa and Asia.In developing countries in Africa and Asia and the Pacific, women typically work 12-13 hours more than men per week.Across all regions women are less likely than men to own or control land, and their plots often are of poorer quality. Less than 20% of the world's landholders are women.If women farmers had the same access to resources as men, the number of hungry people in the world could be reduced by up to 150 million due to productivity gains.Women reinvest up to 90% of their earnings back into their households - that's money spent on nutrition, food, healthcare, school, and income-generating activities - helping to break the cycle of intergenerational poverty.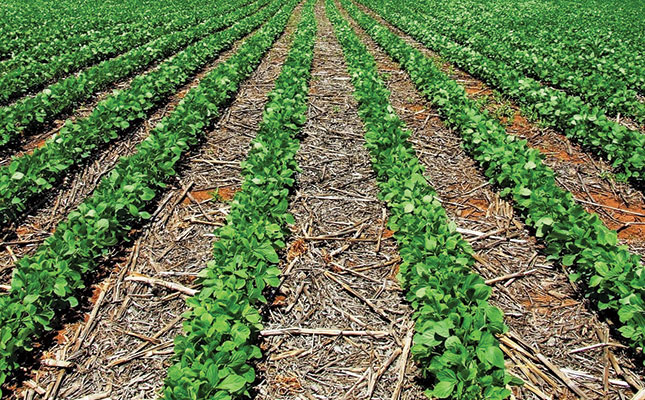 Switching to no-till? Restore degraded soil first!
It is often assumed that implementing no-till production is the immediate next step towards restoring degraded soils. Not so, says Guy Thibaud, a veteran soil scientist with the KwaZulu-Natal Department of Agriculture and Rural Development. ​The use of no-till conservation agriculture practices continues to grow rapidly around the world. The Argentina Association of Direct Seeding No-Till Producers, for example, states that more than 80% of that country's crop farmers implement no-till production methods. In comparison, only about 30% of South Africa's crop production is no-till, according to Dr Hendrik Smith, Grain SA's conservation agriculture facilitator. Veteran soil scientist Guy Thibaud says a number of South African farmers claimed to have tried implementing no-till but that it ultimately did not work for them. "What I say, though, is that these claims of lack of success with no-till are not due to any inherent failures with the system. For one thing, if no-till created bigger problems than the ones it is meant to solve, or if it were not economically viable to implement, there would not be an estimated 120 million hectares of land – a figure that is growing – under no-till production around the world." Thibaud believes the reason for no-till reportedly not working for some South African farmers is that these producers made mistakes or took shortcuts with their management of the system as they did not fully understand it. He says that some farmers have complained about "the poor early performance of no-till" during and immediately after the transition from conventional tillage practices on their farms. In response to these comments, Thibaud quotes world-renowned soil science expert Rattan Lal, who said that "severely eroded and degraded soils due to prior mismanagement do not respond to no-till unless the physical, nutritional and soil biological properties are [first] restored". The fence row soil test: proof that it works Thibaud says that farmers who are sceptical about no-till should take a look at the results of the simple fence row soil test devised by South African soil scientists Dr Neil Miles and Dr Alan Manson. The fence row soil test at Cedara clearly showed that the never-tilled soil (left) was healthier than the soil (right) that had been tilled annually for 38 years. Photo: Dr Neil Miles and Dr Alan Manson This visually compared the health of two soils on Cedara Agricultural Research Centre's farm. The first had been conventionally tilled and monocropped with maize for at least 38 successive years, while the second, on the adjacent grassed-over access road, had never been tilled. "Just by looking at the soil samples from these two areas 2018it was easy to see that the levels of organic matter, biological activity and aggregate stability were significantly better in the never-tilled soil versus the long-term tilled soil," says Thibaud. He urges farmers who still use conventional tillage to carry out this test, but acknowledges that in areas where more sandy soils are farmed, the visual differences between the two soil samples will initially not be as obvious. However, closer inspection, including feeling the two soils, will reveal differences to prove that the never-tilled, grass-covered soil is healthier than the tilled soil. Essential fixes before going no-till According to Thibaud, the first important fix before transitioning from conventional tillage to no-till is to correct soil acidity. He advises no-till farmers still struggling with soil acidity to stop no-till for a season, fix the problem, and then return to no-till. "Don't get emotional, don't live in denial, because the soil acidity problem will not disappear unless you take action. And to prevent re-acidification of no-till soils, I recommend surface-applying lime at between 1t/ha and 2t/ha every two to four years. This has proven very effective." A second important fix ahead of no-till implementation is to check for any soil compaction, including plough pans, subsoil compaction and surface crusting. The depth of any subsoil compaction must be determined using an appropriate soil probe tool. A tractor-drawn ripper implement set to rip to a depth just below the compacted layer can then be used to remedy this compaction. Thibaud points out that tillage, such as ploughing and ripping, provides only a temporary solution to soil compaction. "If it were a permanent fix, why do farmers still plough their soil every year? As useful an invention as the mouldboard plough was considered to be when originally devised, it has since caused a lot of misery. For example, the infamous American Dust Bowl of the 1930s was directly as a result of years of annual ploughing and discing, followed by a devastating drought. As a result, there was a max exodus from affected US farms." Nature's revenge He adds that constant cultivation of farmland has taken its toll on beneficial soil organic matter and on the valuable topsoil itself. "If you pillage, plunder and rape the soil for long enough, the forces of nature will expropriate your land, and it will be without compensation." He points out that in their 1953 paper, 'The regeneration of soil humus under a grass ley', University of Pretoria researchers JJ Theron and DG Haylett discussed the issue of declining crop yields in South Africa. The pair warned farmers that this decline was caused by, in turn, loss of soil organic matter through repeated tillage, rapid impoverishment of the ploughed soil, soil structure deterioration, and loss of topsoil due to erosion. Despite this warning, generations of farmers have continued to till their soil conventionally and repeatedly. As a result, and in combination with arguably the country's most severe drought of the past century, regions of South Africa experienced conditions during the 2015/2016 summer crop production season worryingly similar to those of the American Dust Bowl of the 1930s. "While farmers in the Free State's Hoopstad area were planting that season, there was a massive dust storm," explains Thibaud. "This dust was lifted from the local highly degraded and therefore highly erodible soils. "If the Hoopstad farmers, and perhaps tillage farmers in other areas too, now want to transition to no-till, they'll first have to recognise and fully accept that crop residues, soil carbon and organic matter are all key factors for no-till to work effectively. If they can't accept this, they won't even get out of the starting blocks." Beyond not ploughing Thibaud warns farmers to avoid becoming so preoccupied with not ploughing soils that they forget to address the other important aspects of sustainable soil management and crop production. No-till cannot work without the simultaneous use of organic soil covers, such as crop residues and cover crops. He quotes Lal, who says that crops which do not leave a significant amount of residue on the soil surface cannot be grown continually in a no-tillage system without seriously deteriorating the soil's physical properties. Smooth the bumps with cover crops The transition from conventional tillage to no-till sometimes comes with short- to medium-term challenges. Thibaud cites US soil scientist James Hoorman, who said in 2009 that no-till maize production had struggled to be successful in the Midwestern US. "[Successful] no-till farmers [there] say that it takes seven to nine years to transition from conventional farming to long-term no-till. Yields are typically reduced by 10% to 20% during those transition years." Hoorman says this transition period can be dramatically shortened to two to four years if cover crops are also grown. This is supported by another US soil scientist, Dr Jill Clapperton, who, when speaking in South Africa in 2014, said unstructured soils with low organic matter content take between three and five years to build the soil biological properties necessary to improve soil structure. Clapperton's recommendation at that time was that it was better to start the transition to a conservation tillage system after a perennial crop or pasture phase of two to five years. Thibaud says that with much of South Africa being classed as arid and semi-arid, consideration should be given to the water usage for cover crops that do not directly contribute to a farmer's income. In areas where rainfall and water resources are particularly scarce or under pressure, he suggests planting one or more ley crops in winter as an alternative to conventional cover crops. "By first addressing soil acidity and soil compaction, and by first improving soil structure and general health through the use of living and dead soil cover, the transition from conventional tillage to no-till will get a valuable jumpstart," he says. "This will not only reduce the length of the transitional period but minimise any potential yield losses commonly associated with this transition." This presentation was given at the 2018 No-Till Conference.https://www.farmersweekly.co.za/
Economic Survey: Charting road map for faster growth​
The Economic Survey 2018-19 has called for harnessing technologies suited to small-sized farms and recommended adoption of micro-irrigation systems to improve water use efficiency."One of the key aspects which can improve productivity of small farm holdings is improving resource use efficiency (one of the sources of income growth identified by the Committee on Doubling Farmers' Income)," the Survey states.According to the report, the next big input or resource for farmers will be digital technologies. To facilitate communication and reduce transaction costs, information technology applications can be "crucial in smallholder farming".The spread of mobile phones in rural areas has already impacted the way the small and marginal farmers get access to information about soil health, weather and prices.Digital technologies can facilitate market access, financial inclusion and contribute significantly to early warning signals that are critical for the development of the smallholder community. Technology can play a critical role in bridging the information gaps that exist in agricultural markets, a key reason why farmers often don't get profitable prices."There is a major concern whether the present practice of groundwater use can be sustained as the depth of the groundwater level continues to drop. By 2050, India will be in the global hot spot for 'water insecurity'," the Survey states.States with penetration and improved adoption of micro-irrigation have almost 40 to 50% savings in energy and fertilizer consumption, the Survey said.It also said a combination of measures which suit the local agro-economic context need to be applied to improve irrigation productivity in agriculture which would reflect sustainable water use in agriculture.(For full budget coverage log on to)"In this regard, focus in agriculture should shift from 'land productivity' to 'irrigation water productivity'. Therefore, devising policies to incentivise farmers to adopt efficient ways of water use should become a national priority to avert the looming water crisis," it said.In India, according to the Asian Water Development Outlook, 2016, almost 89% of groundwater extracted is for irrigation.The survey also states that the cropping pattern in the country was skewed towards crops that guzzle more water."Adopting improved methods of irrigation and irrigation technologies will have a critical role in increasing irrigation water productivity along with re-calibrating the cropping patterns... adoption of micro-irrigation systems is one of the possible ways to improve water use efficiency," it said. Hindustan Times ​
Kenyan farmers harness fertilizer from earthworms​
NAIROBI, June 21 (Xinhua) -- Tens of tiny, red creatures placed inside a plastic container wriggle as they get intertwined into each other in a seemingly endless game.Inside the container at John Karemi's home in Kajiado, south of Kenya's capital Nairobi, there is also kitchen waste, which is collected and placed there every week.And under the container holding the worms, there is a can where waste produced by the creatures is collected.Karemi then mixes the waste with water to create a nutrient-rich fertilizer known as 'worm juice' that can be used on any plant, but in particular he uses it on vegetables on his kitchen garden.The above setting is currently common among many small-scale farmers in Kenya as the practice of rearing worms, technically known as vermiculture, picks up across the east African as farmers seek to save cost.Small farmers, including some who have kitchen gardens, are rearing the worms and extracting the organic fertilizer.The 'worm juice' is, therefore, helping farmers cut the cost of production amid rise in prices of fertilizer."Not any worm can be used to make fertilizer. We specifically use red worms," said James Wafula from Kitale, western Kenya, who practices vermiculture.On his farm, he has 200-liter plastic containers in which he has placed farm waste to act as the worms' beds."I have made the beds from crushed maize cobs, animal manure, paper, grass and banana stems. The beds are technically known as vermi-beddings. All these materials are readily available on the farm which makes vermiculture an inexpensive practice," he noted.As many other farmers, Wafula feeds his worms on kitchen waste, and he not only produces fertilizer for his crops but sells the 'juice' and the worms to other farmers.A kilo of the worms goes for between 1,500 Kenyan shillings (15 U.S. dollars) and 25 dollars, with the farmer selling the product and training interested farmers on how to keep them."It takes about four months for the worms to produce substantial waste. After which one removes the beddings and restarts the process," he said.Besides training from farmers like Wafula, who holds a doctorate in climate change studies, farmers can attend short courses on vermiculture at agricultural institutions like Jomo Kenyatta University of Agriculture and Technology and Egerton University.Beatrice Macharia of Growth Point, an agro-consultancy, noted that worm juice is a compound fertilizer that has nitrates, phosphate, potassium, iron, magnesium and calcium, minerals that are not only needed by plants in plenty, but they also help restore the soil.She noted that only red earthworms are used in vermi-composting because they are good in converting waste into fertilizer."These worms are even helping farmers and families put into good use waste from their kitchen which would otherwise have ended polluting the environment or be thrown and harbor pests like rats. The worms feed on any food remains, from vegetables to corn meal but one should avoid meats," she said.Some 20 liters of the 'worm juice' is enough to apply on an acre, with crops needing only small quantities to thrive. Farmers with smaller pieces of land therefore need just small quantities of 'worm juice'.Kenyan farmers are currently buying a 50kg bag of Diammonium Phosphate (DAP) fertilizer for planting or Calcium Ammonium Nitrate (CAN) for top-dressing for as high as 38 dollars, prices that are too high for many small-scale produces.​
Cocoa Could Fill In as Arabica Loses Ground to Climate Change, Research Suggests​
Amidst predictions that much of the for growing arabica coffee in the coming decades due to climate change, new research suggests cocoa may help fill the gap for some coffee producers in Central America and Mexico.Published by researchers with academic affiliations throughout Northern Europe and Mesomerica, that half of the current coffee plantations that are vulnerable to a warming climate — in the study area from Panama to Central Mexico — could be replaced by cocoa."This opens a window of opportunity for climate change adaptation," Kaue de Sousa of the wrote as lead author of the study. "The interest of smallholder farmers in cocoa is growing, driven by the vulnerability of coffee in the changing climate. Now we have to build capacity among smallholders to adapt their crop systems successfully."Adding to the potential challenge for coffee producers is another key finding in the study, that nearly 80% of the tree species currently part of agroforested systems in the study area will "drastically shrink" due to climate change. The researchers said those tree species include fruit trees such as mango, guava and avocado, and timber trees, as well as an estimated 56% loss in nitrogen-fixing trees, which have the ability to enhance soil health."Despite the concerning decrease in tree suitability, our study provides alternatives for coffee and cocoa agroforestry under the climate emergency faced by farmers today," de Sousa said.The study does include a list of sample tree species that could be well-suited for canopy cover, soil health and other factors that could lead to less volatile micro-climates amidst warming. In addition, the authors note that farmers will need access to suitable coffee plants themselves through seed research and distribution.All of this, of course, requires collaboration, money and time — resources with which few of the millions of farmers throughout Mesoamerica are flush, especially in this time of coffee price crisis."Transforming agroforestry systems by changing tree species composition remains the best bet to adapt most of the coffee and cocoa farms across Mesoamerica, the study recommends," according to a summary from the sustainability science NGO , which was partially involved in the funding of the research. "This would involve urgent changes to land use planning, incorporating diversified tree species and including underutilized species into redesigned agroforestry systems. The seed sector also needs to step up by offering farmers seeds and seedlings of the most suitable tree species for each climatic zone. Farmers also need to get on board."At several points throughout the study, the researchers acknowledge the market- and infrastructure-related constraints on coffee farmers. Yet solutions, they suggest, must also be driven by farmers."Farmers need to rethink current agroforestry species composition and use a portfolio that is suitable in the future climate. This is a challenging task, because it takes a long time for farmers to see their investments bearing fruit," wrote de Sousa. "We identified that this potential may rely on currently underutilized tree species, such as June plum, sapodilla and breadnut; species that are currently present in coffee and cocoa systems, but in low densities, as they are mainly remnants of previous farm vegetation rather than being actively planted and managed by farmers. Nick Brown is the editor of Daily Coffee News by Roast Magazine.
We are global.
We have farmers joining from around the word looking for advice to grow better crops. No matter your location, we can connect you to an adviser or agronomist that will help you find the best solution for troubling issue. Join our network and become connected to the like farmers around the world. The platform will soon feature several major languages supported for easier communication.
Sign-up and get connected to experts that will help you in your farming endeavor.
Knowledge sharing for smallholder farmers using digitisation and social interactions.
CROPS
Receive information about crops you are growing. We offer you professional assistance from experts in the field, tailored for your case.
IRRIGATION
Find all the latest irrigation and drip irrigation solutions and get help from the experts to make your own.
CREATE A DIRECT LINK TO SMALLHOLDERS
Already a Grow member?
Please sign in here.